Specifications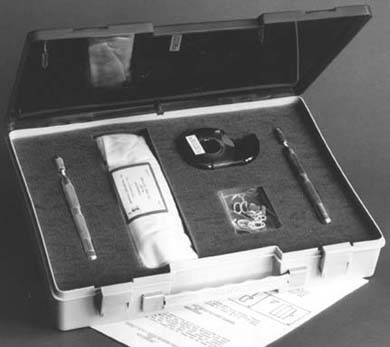 Summers Optical has attempted to solve our customers procurement problems of certified equipment and supplies for testing lens coatings in accordance with MIL-C-00675, MIL-M-13508, and MIL-F-48616.
The kit contains two instruments: A brass instrument for testing severe abrasion resistance and contains a 2 1/2 lb spring. An aluminum instrument for testing moderate abrasion resistance and contains a 1 1/4 lb spring. Although the instruments do not conform exactly to drawing 07680606, they have been used for over 20 years with military approval as being essentially the same. The inserts provided with the instruments are manufactured and certified to conform to MIL-E-12397. The calibration of the springs in the instruments is traceable to the National Institute of Standards and Testing.

The kit also contains two additional rubber inserts, 2 sq. yards of cheesecloth meeting MIL CCC-C-440 and one roll of tape meeting MIL-A-A113 Rev. D.
All pertinent certificates of conformance as well as instructions for use are included in the convenient carrying case.